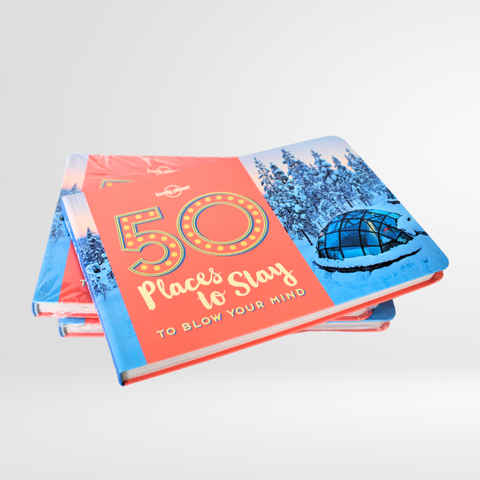 50 Places To Stay To Blow Your Mind
Pickup currently unavailable
From the people who've been delivering trustworthy guidebooks to every destination in the world for 40 years,Lonely Planet's 50 Places to Stay To Blow Your Mind will make your next trip an unforgettable one.
From glass igloos in Finnish Lapland, to wooden spheres suspended in Canadian treetops; from geodesic domes in the Patagonian wilderness, to old-school opulence at New York's Plaza Hotel - these are the ultimate in overnight experiences. Not every place is a budget buster; sometimes it's about the spectacular locations, like the gravity-defying Bivacco Gervasutti on Mont Blanc. There are places that literally disappear into their surroundings like the Mirrorcube in Haradsand others that stand tall and command attention like the Frank Gehry-designed Hotel Marques de Riscal.
We've only included a place if it gives us a thrill, makes us catch our breath and inspires us to see the world through different eyes. We hope they motivate you to go on a journey to a new destination.
With this pocket-sized gift book showcasing 50 of the most luxurious, extraordinary and spectacular accommodation offerings around the world, even sleeping will be an adventure on your next trip.
Contents:
Elegant - Traditional opulence
Ashford Castle - Ireland
Hotel Everest View - Nepal
Majestic Hotel - USA
Quinta Real Zacatecas - Mexico
Trans-Siberian Express - Russia-Mongolia

Escape - Remote and secluded
Attrap Reves - France
Berggasthaus Aescher-Wildkirchli - Switzerland
Junk cruise - Vietnam
No Man's Fort - UK
The Caves - Jamaica
The FloatHouse River Kwai - Thailand
The Secret Campsite - UK
Treehotel - Sweden
Whitepod - Switzerland
Explore - Intrepid adventures
Ariau Amazon Towers - Brazil
Bivacco Gervasutti - Italy
EcoCamp Patagonia - Chile
Hotel Arctic - Greenland
Shamwari Game Reserve - South Africa
Skylodge Adventure Suites - Peru

Splurge - High-end luxury
Conrad Maldives - Maldives
Huka Lodge - New Zealand
Katikies Hotel-Oia - Greece
Neemrana Fort Palace - India
Sheraton Huzhou Hot Spring Resort - China
Southern Ocean Lodge - Australia
The Plaza - USA
Wonder - The totally unexpected
Crane Hotel - The Netherlands
Crazy Bear - UK
Crocodile Hotel, Jabiru - Australia
Das Park Hotel - Austria
Hang Nga Guesthouse - Vietnam
Hotel Marques De Riscal - Spain
Hotel Sidi Driss - Tunisia
Huettenpalast - Germany
JW Marriott Marquis - United Arab Emirates
Kumbuk River Resort - Sri Lanka
Palacio de Sal - Bolivia
Propeller Island City Lodge - Germany
Shinjuku Ekimae Anshin Oyado - Tokyo
The Dog Bark Park Inn - USA
Tianzi Garden Hotel - China
V8 Hotel - Germany
About Lonely Planet: Since 1973, Lonely Planet has become the world's leading travel media company with guidebooks to every destination, an award-winning website, mobile and digital travel products, and a dedicated traveller community. Lonely Planet covers must-see spots but also enables curious travellers to get off beaten paths to understand more of the culture of the places in which they find themselves.