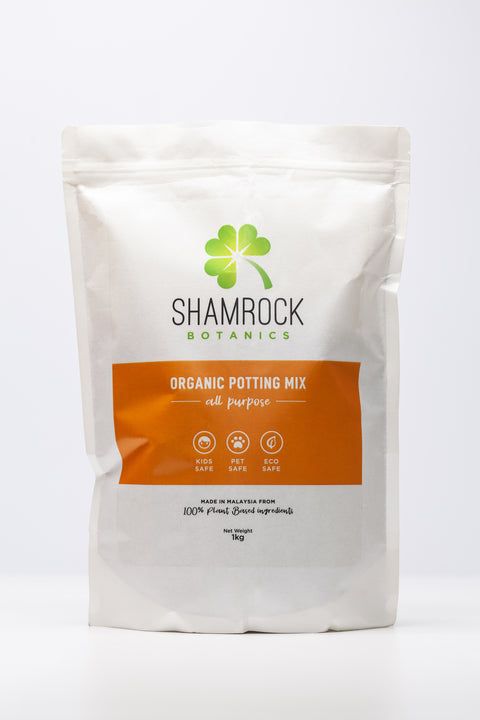 Shamrock Botanics All Purpose Organic Potting Mix
Pickup currently unavailable
100% plant-based and natural, Shamrock Botanics Potting Mix is a combination of high quality Coconut Coir, Perlite, Shamrock Organic Fertilizer and Shamrock Organic Bio-Char in tried and tested ratio. 
Ready-To-use for all container system plants, our Organic Potting Mix is a nutrient-balanced, bacteria resilient medium, formulated to ensure proper drainage, adequate moisture retention and air-space to promote healthy plant and root growth.
Each pack contains 1kg of potting mix. 
Advantages:
- Odorless and Non-Hazardous.
- 100% Natural Plant-Based and Organic.
- Kids Safe, Pets Safe and Eco Safe.
- Nutrient-Balanced and Rich in Trace Elements Nutrients.
- Allows adequate porosity and aeration for healthy roots growth.
Good For:
- Any container system Indoor and Outdoor Plants, Greens, Herbs & Vege, Fruits, Flowers.
- For succulents and cactus, you may add pebbles, volcano rocks etc, to enhance porosity.
General guidance as follows:
- Fill up pot to 1/3 or as much as required. 
- Loosen mix and place plant or seeds within pot.
- Add more mix up and until there is about 1 inch left from the rim of the pot. Press lightly. 
- Water thoroughly and repeatedly thereafter for best results. 
About Shamrock Botanics
Truly Eco-Friendly, Shamrock Botanics is passionate about preserving the environment for all generations and we believe this can be achieved starting with repurposing agricultural waste into quality plant care products.
Using only 100% natural and plant-based resources from our environment, our plant care products are not only effective and simple to use, but above all Kids Safe, Pet Safe and Eco Safe.