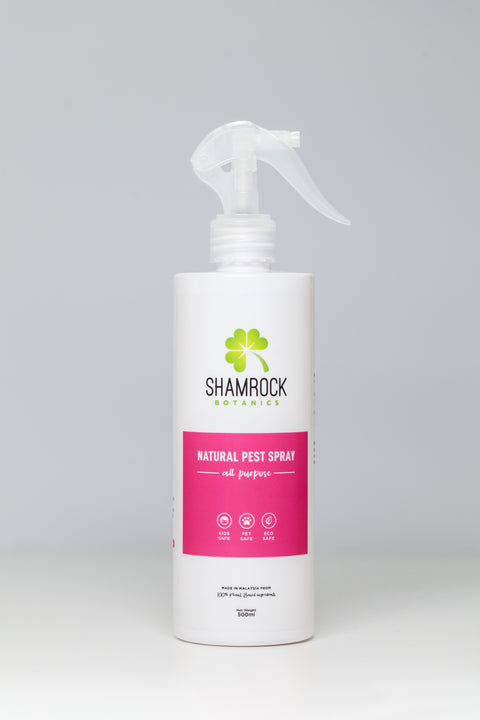 Shamrock Botanics All Purpose Natural Pest Spray
Pickup currently unavailable
100%plant-based and natural, Shamrock Botanics Natural Pesticide is a mixture of Neem Oil, Wood Vinegar, Plant Herbal Extract and Essential Oil. 
Neem Oil is a complex plant-derived oil which makes insects hormones go haywire, interrupting maturation and appetite, while Wood Vinegar is a natural fungicide and bactericide. 
Main function to irritate, repel and prevent a wide range of garden and household pests, worms, insects and even some animals. Also, to ensure the overall health of the plant.
Each Natural Pest Spray bottle is 500ml.
Advantages:
- Odorless and Non-Hazardous.
- 100% Natural, Plant-Based and Organic.
- Eco and Environmentally Friendly.
- Irritates, repels and prevents a wide range of garden and household pests.
Good For:
- Indoor and Outdoor Spaces and Plants, Greens (Herbs & Vege), Fruits, Flowers, Succulents, Cactus and Lawns.
General guidance to follows:
- Mist gently.
- Use preferably in the evening to avoid burnt when exposed to heat from the sun.
- For Infected Plants, use continuously every 2-3 days on infected area until the infection has been completely dealt with.
- For Non-Infected Plants, use every 2 weeks for general plant care. 
About Shamrock Botanics
Truly Eco-Friendly, Shamrock Botanics is passionate about preserving the environment for all generations and we believe this can be achieved starting with repurposing agricultural waste into quality plant care products.
Using only 100% natural and plant-based resources from our environment, our plant care products are not only effective and simple to use, but above all Kids Safe, Pet Safe and Eco Safe.